LumiraDx Partners with Everton in the Community to Set Up England's First Heart & Lung Screening Hub
Run by the official charity of Everton Football Club – Everton in the Community – the Liverpool-based hub will provide significant support for individuals suffering from chronic
breathlessness and other heart and lung-related conditions in a community-based setting. The hub is made possible by unrestricted grant funding from AstraZeneca.
The LumiraDx NT-proBNP test is the only NT-proBNP test currently available that can be
used with a simple fingerstick sample.
Run on the LumiraDx Platform, the LumiraDx NT-proBNP test is a smart, automated, highly portable diagnostic solution designed to improve access and ease of use for heart health checks, all within 12 minutes.
Covering multiple clinical areas, the LumiraDx Platform is also ideally placed for lung-related health checks and other cardiometabolic disease screening, offering HbA1c, CRP, D-Dimer, Influenza A/B, RSV & SARS-CoV-2 Antigen Tests; all on a single Platform.*
LONDON, Oct. 24, 2023 (GLOBE NEWSWIRE) -- LumiraDx Limited (Nasdaq: LMDX), a nextgeneration point of care diagnostics company, is pleased to announce a strategic collaboration with Everton in the Community to set up England's first community-based heart and lung screening hub, set to go live in November.
The official charity of Everton Football Club will run this novel screening hub from the recently opened People's Place. The hub will provide the Merseyside community with access to the latest technologies and specialist input from a multidisciplinary team of primary care, heart, and lung specialists to focus on early diagnosis and early treatment for chronic breathlessness in a walk-in setting.
Michael Salla, Deputy CEO for Everton in the Community, said, "We're delighted to be launching this project, which is the first screening service of its kind for heart failure, COPD and asthma in England. It will use next generation diagnostics that don't require phlebotomy, while also using artificial intelligence to help detect heart failure and prevent premature mortality alongside reducing the complications of these conditions due to the early detection. We can't thank AstraZeneca enough for their support to make this happen."
The heart and lung screening hub will work to raise awareness of medical conditions which cause chronic breathlessness, offer screenings for heart failure, chronic obstructive pulmonary disease (COPD) and other chronic conditions which are common in the local population as well as offer lifestyle reviews and advice.
David Walton, Chief Commercial Officer at LumiraDx points out, "A full blood draw can be daunting for patients, so the use of a simple fingerstick sample for our NT-proBNP test greatly broadens access to heart health checks within the community. By diagnosing heart failure faster, we aim to make a positive impact on patient outcomes, which then translates into positive economic outcomes for the NHS."
The programme will also work closely with Pumping Marvellous, the UK's patient-led heart failure charity, who offer vital support to help people live well with heart failure. Nick Hartshorne-Evans, founder and CEO of the charity, commented, "Patients are often initially misdiagnosed or diagnosed late. Patients tell us in our communities that catching their diagnosis quickly and efficiently means they know what they are dealing with. This improves their mental health and ensures they are not suffering from anxiety around the unknown whilst improving access to guideline standard care and treatments."
In addition, LumiraDx continues to participate in a similar initiative – the "Your Heart Matters" Bus – with strategic collaborator Medtronic. The first event was held over two days in Yorkshire in February 2023 with a follow-up event held in Manchester in July 2023. A third event is scheduled for November 2023 in Leeds.
The strategic partnership with Everton in the Community will also work closely with Liverpool University Hospitals NHS Foundation Trust and next generation medical technology providers Lenus Health, Us2.ai and ArtiQ. It is yet another example of how LumiraDx continues to drive for improved patient outcomes by broadening access to critical diagnostic tests and ultimately transforming how patient care is delivered within the community.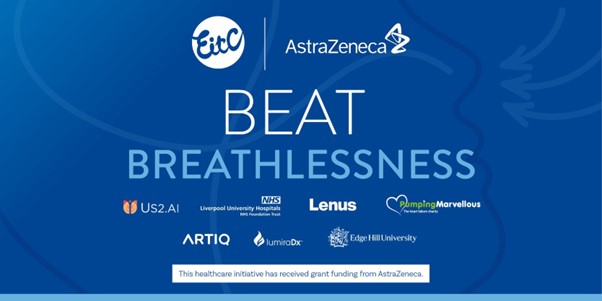 About LumiraDx
LumiraDx Limited (Nasdaq: LMDX) is a next-generation point of care diagnostics company that is transforming community-based healthcare. Its actively controlled microfluidic technology provides fast, high performance and accessible diagnostic solutions wherever the patient is for nearly any testing scenario, creating unique testing options at the point of need.
The company offers a broad menu of lab comparable tests on a single portable Platform, with a target of > 30 assays on the market and in various stages of development, covering infectious disease, cardiovascular disease, diabetes, and coagulation disorders. The company also supports high-complexity laboratory testing in an accessible high-throughput format to leverage current molecular laboratory operations.
Founded in 2014 and based in the UK, LumiraDx's diagnostic testing solutions are being deployed globally by governments and leading healthcare institutions across laboratories, urgent care, physician offices, pharmacies, schools, and workplaces to help screen, diagnose, and monitor wellness as well as disease. More information on LumiraDx is available at www.lumiradx.com.
Cautionary Note Regarding Forward-Looking Statements
This press release contains forward-looking statements within the meaning of the U.S. Private Securities Litigation Reform Act of 1995, including statements regarding the benefits and performance of the LumiraDx NT-proBNP test. These statements involve risks, uncertainties and other factors that may cause actual results, levels of activity, performance or achievements to be materially different from the information expressed or implied by these forward-looking statements, including, among others, general economic, political and business conditions; changes in interest rates, inflation rates and global and domestic market conditions; the effect of COVID-19 on LumiraDx's business and financial results; obtaining or maintaining regulatory approval, authorization or clearance for our tests; and those factors discussed under the header "Risk Factors" in our Annual Report on Form 20-F for the year ended December 31, 2022, which was filed with the Securities and Exchange Commission, or SEC, on May 1, 2023, and in other filings that we make with the SEC. Although LumiraDx believes that it has a reasonable basis for each forward-looking statement contained in this press release, LumiraDx cautions you that these statements are based on a combination of facts and factors currently known by it and its projections of the future, about which it cannot be certain. LumiraDx undertakes no obligation to update or revise the information contained in this press release, whether as a result of new information, future events or circumstances or otherwise.
* Not all tests are available in all countries and regions. For additional detail on product availability please visit www.lumiradx.com.
Media Contact: